Indoor and Outdoor Arenas
Indoor Arena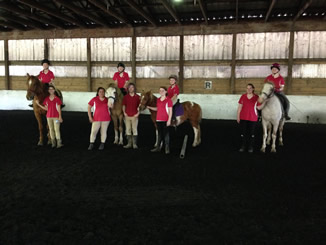 Since opening our doors in the 1970's, our indoor arena has been one of the best in the metro-east. Originally having a riding space of 80ft x 120ft, the indoor was later expanded to 80ft x 200ft, allowing us to accomodate a full-size dressage arena. Our large indoor arena allows for a variety of equestrian activities to take place year round, including lessons, training, clinics, summer camps, and more. The sand/rubber footing is watered and conditioned on a regular basis, providing horses and riders with a comfortable working environment. Brier Bank's eight-horse drill team uses this space weekly for practice. Our clients are welcome to use the arena during regular business hours, unless a special event is scheduled.
Outdoor Hunter Ring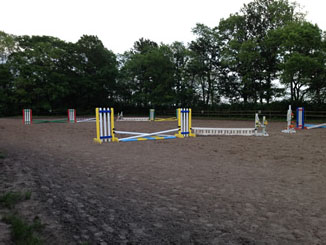 In Spring 2016, the former outdoor dressage arena was converted to a dedicated hunter ring, complete with a full course of fences for schooling and shows. The arena is 110ft x 240ft;outdoor lighting will be added in the near future.
Outdoor Dressage Arena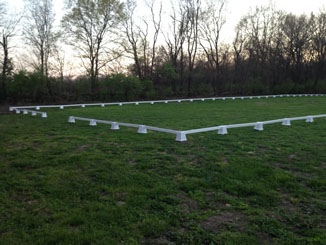 In Spring 2016, we added a 20m x 60m regulation-sized grass dressage arena to our complex. This is a welcome addition, providing another work space for our clients and their horses in a peaceful, tranquil setting. Weather permitting, the dressage portion of our schooling shows are held here.
The Trail
Though not technically an arena, we recognize the benefits a trail ride can provide horses and riders outside of a controlled environment. A walk down the trail is a welcome change of scenery after a hard day's work.
---